This content is exclusive to the Mobile Version

---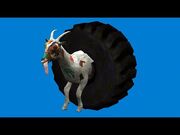 "Bounce like the piece of art that you've always known you've been."
Artsy Goat is a mutator added in the Goat Simulator Mobile Update 1.4.12. See that page for more information.
Requirement
[
]
Find the painter who appears to be crying, and headbutt the three easers that he painted arrayed around a bowl of fruit — all three of which seem to be paintings of the said bowl of fruit.
Appearance
[
]
Artsy Goat is a white goat with paint splatters all over its fur. It also has a tire around its waist.
Abilities
[
]
Artsy Goat has the ability to bounce when it lands because of its tire.
[

]