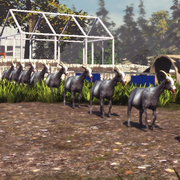 "Let out your inner goat, then let the goat enter again."
The Babushka is a mutator that allows the goat to multiply.
Unlock Requirement
[
]
Enter the Harvest & Trustee bank and drill open the vault. Once the vault is open, look for the crate containing a stacking doll. Harvest & Trustee can be found nearby the hot air balloon.
Abilities
[
]
Pressing use will allow the goat to create a smaller copy of itself, if the limit has been reached you will control the normal sized goat again. Pressing use too close to a larger copy will make you control the target copy once again while deleting the old goat, if a larger copy presses use while near a smaller copy, the smaller copy will be deleted.
[

]