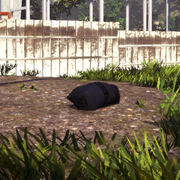 "Bags can breathe underwater so they often sleep with the fishes."
The Bag is a mutator that turns the goat into a Bag.
Unlock Requirement
Look for the shop nearby the theater, the shop will have a sign that says "Selling Totally not stolen stuff". Once there, enter the glowing object nearby the bags.
Abilities
As a bag, the goat can only move around and is stuck in a permanent ragdoll state.