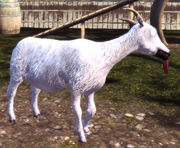 "Stand still and press Special repeatedly to charge a spin. Release by pressing Forward."
The Blue Streak is a mutator that gives the goat white fur and glowing white eyes.
Unlock Requirement
Available at start.
Abilities
Pressing Special repeatedly causes Blue Streak to turn blue and spin in place. Pressing Forward at this time causes the goat to sprint forward a short distance.
Trivia
This mutation is most likely a reference to the video game character Sonic the Hedgehog, who is able to charge a spin dash in the same fashion. Notably, "Blue Streak" is similar to Sonic's nickname "the Blue Blur".
Blue Streak looks very similar to a halo-less Angel Goat.