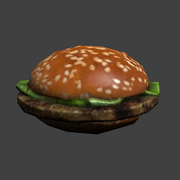 "Get burg; listen to savant."
The Burger Goat is a mutator. It does not change the goat's appearance in any way.
Unlock Requirement
[
]
Reach level 5 in Goat MMO Simulator.
Abilities
[
]
Pressing Special shoots a burger (named "burg") out of Burger Goat's mouth. Burgers disappear after a short while. They can be fed to humans and other goats, making them fatter every time they are fed. Spamming a lot makes them too fat.
[

]