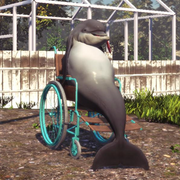 "Dolph is the coolest goat, pick Dolph, pick Dolph!"
Dolph Spaghetti is a mutator that turns the goat into a dolphin in a wheelchair.
Unlock Requirement
[
]
Automatically unlocked with PAYDAY.
Cannot be unlocked.
Abilities
[
]
Dolph Spaghetti's wheels are sticky and can climb up things. Dolph also possesses the ability to change the height of his wheelchair by pressing Special (On the Xbox version, he can only go up and it limits the amount).
Character Description
[
]
Dolph is at home in the sea, but he doesn't let that keep him from kicking ass on land as well. Little more is known about Dolph, but it's clear that he is the sharpest goat in the team, so perhaps keeping his background secret is smarter than you think.
Trivia
[
]
When ragdolled, Dolph will fall off his chair turning it into a separate object. When Dolph gets back up, his chair will be teleported to him.
In the Mobile Version, the parts of his wheelchair are white instead of teal.
Gallery
[
]
[

]