This article is about the mutator. For the achievement, please see ExcaliGoat (Achievement).
"You are worthy to wield the power!"
The ExcaliGoat is a mutator that gives the goat a sword on its head.
Unlock Requirement
Complete the ExcaliGoat achievement.
Abilities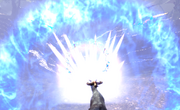 Pressing Special creates a burst of blue light in front of ExcaliGoat, blasting objects in front of the goat but also knocking the goat backwards.
Trivia
This mutator is a reference to the sword Excalibur and the legend of the sword in the stone.
Judging by the markings on the stone you draw Excalibur from and its ability to shoot bursts of energy, this mutator might also be a reference to the Master Sword from the Legend of Zelda video game franchise.
The energy bursts shot by the Excaligoat are so powerful they can throw you out of the map after just a couple of uses.
Combining Wheel Goat and Excaligoat is not advisable, as the latter will make the recoil of the blasts increase a lot, after time unfreezes.
If ExcaliGoat is placed below the Tank in the mutator menu, you won't experience recoil from its ability. Instead, you will charge forward the way the Tank's ability does.