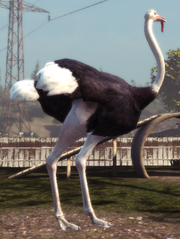 "The fastest goat in town."
The Feather Goat is a mutator that turns the goat into an ostrich.
Unlock Requirement
You have to climb up a ladder by the bridge and the giant slingshot. The ladder is by a house. Sometimes this is just a goat trophy, and not a character in the mobile version.
Abilities
Feather Goat jumps very high and descends slowly. It also runs much faster than the standard goat.
If you visit the Fighting Ring and win all 4 rounds, the mutator will merge with the Ripped Goat and will glitch. Ragdolling will throw your goat very far, getting Airtime Easy, Airtime Hard, and Treadmilling.