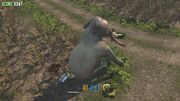 "Is your trunk full of junk? Press special to spray water."
The Fireman Goat is a mutator that turns the goat into an Asian elephant. The elephant has much higher gravity than normal causing it to fall quicker.
Unlock Requirement
Abilities
The Fireman Goat can spray water by pressing Special.