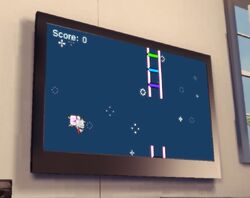 Flappy Goat is a minigame that can be found in the Coffee Stain Studios house in the Classic Map. It is a parody of the popular mobile phone game, Flappy Bird. Needless to say, it was taken off the appstore. In it, the player taps the R key to make the Goat 'flap'; if the goat hits any of the obstacles, the game is lost.
Related Achievements
Edit

Flapmaster
Score 10 points in Flappy Goat
Toggling the gamespeed does not effect the gamespeed of Flappy Goat.
Flappy goat is a real game made by coffee stain on apple but instead is called "super flappy goat".