Flappy Goat (Minigame)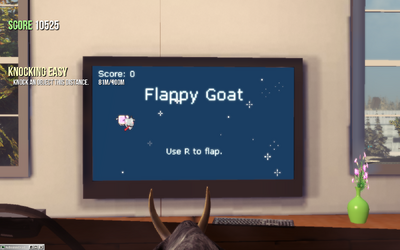 This article is about the minigame. For the goat mutator, please see Flappy Goat (Mutator).
Flappy Goat is a minigame.
The goal in this hard game is to come as far as possible by flying through the gaps between the ladders. It is the default game on the Coffee Stain Studios TV.
Press Special to make Flappy Goat fly up. Fly through the gaps in the ladders to score points. If you get too close to a ladder or the edge of the screen the game ends.
In the left upper corner of the TV screen is your score. When the game ends, you will be able to see your Steam friends' high scores. Players' Flappy Goat scores are tracked on the Steam leaderboards.
Flappy Goat is the goat that is used in the video of the music of the pre-order trailer[1]. The music can also be heard when you play the game.
The name and game mechanics are based on Flappy Bird, but its graphical design is similar to Nyan Cat.
Coffee Stain Studios made a real mobile apple game called "Super Flappy Goat" and its based off of the Goat Simulator mini-game