Goat Simulator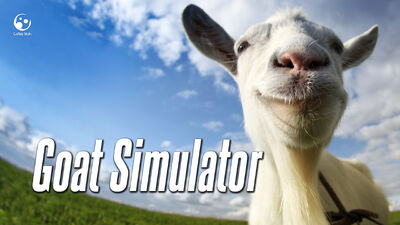 Goat Simulator is the latest in goat simulation technology, bringing next-gen goat simulation to YOU. You no longer have to fantasize about being a goat, your dreams have finally come true!
Goat Simulator is a small, broken and stupid game. It was made in a couple of weeks so don't expect a game in the size and scope of GTA with goats. In fact, you're better off not expecting anything at all actually. To be completely honest, it would be best if you'd spend your $10 on a hula hoop, a pile of bricks, or maybe a real-life goat.
Goat Simulator was released for Microsoft Windows via Steam on April 1, 2014 for $9.99. It was later released on Mac OS X and Linux on June 27, 2014. On September 17, 2014, Goat Simulator was released for iOS and Android. Xbox 360 and Xbox One versions were released on April 17, 2015. Goat Simulator was released on PlayStation 4 and PlayStation 3 on August 11, 2015. A Nintendo Switch port with all downloadable content was released in January 2019 as Goat Simulator: The GOATY.
The game has ratings depending on the platforms.
Mobile: Everyone 10+
Xbox One, Xbox 360, PlayStation 4, and PlayStation 3: T for Violence and Blood.
Windows PC: M for Blood, Violence, Crude Humor, Drug Reference, and Strong Language.