Hitchhiker Goat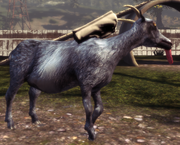 "Press Special to hitchhike."
The Hitchhiker Goat is a mutator that gives the goat a towel on its back. The towel has the number 42 embroidered on it.
Complete the Don't Panic achievement
Pressing Special causes a whale to fall from the sky. Repeatedly using this ability can create a large number of whales, causing the game to lag.
Whales do not work for some players, and spawning large amounts of whales creates lag.
This mutator is a reference to The Hitchhiker's Guide to the Galaxy book series by Douglas Adams. It is not advised to use the Wheel Goat along with this