This content is exclusive to the Mobile Version

---
"Someone finally made an honest goat out of you. Tap POW to marry licked objects."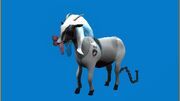 Married Goat is a Waste of Space mutator. It was added in the Lovers Fair update.
Abilities
[
]
When it licks an object, the Married Goat can lick an object and press POW to to chain it to its leg.
Trivia
[
]
Married Goat can generate large amounts of money by marrying a Crate.
[

]