Not to be confused with Jolle.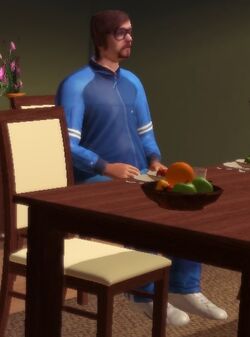 Molle is a character in the video game Goat Simulator. He can be found in several areas of the town, sporting glasses and a blue outfit. One of the places Molle frequents is the dining room of a large house, where he can be found seated at a table with Line.
Friends and Allies: Humans
Enemies: Pilgor , Geten
Status: Alive
In Mobile, Molle was female
Locations
Edit
The following is a list of locations where Molle can be found in the Classic Map.
Attending his car at the gas station pumps.
Enjoying a barbecue with several friends.
Inside a house on the property where Pilgor begins her rampage, seated at a dining table with Line.
Joining protestors at a rally near the Helvete tunnel.
Working on an alien character model on the second floor of Coffee Stain Studios.
Proposing Line near the crowd watching the car drifting of the tall grass (iPad Version).
Laying on the beach of Cabrito Park with Line.
Community content is available under
CC-BY-SA
unless otherwise noted.