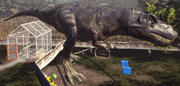 This article is about the mutator. For the achievement, please see Old Goat (Achievement).
"This goat is even older than Christopher Lee."
The Old Goat is a mutator that turns the goat into a T-Rex.
Unlock Requirement
Complete the Old Goat achievement.
Abilities
Old Goat is very big and very strong, and his Baa is a T-Rex roar.
Trivia
An Old Goat can be found in Old Goat Mountain in Goat MMO Simulator. Killing him unlocks the mutator.
Christopher Lee was a British actor, age 92 at the release of Goat MMO Simulator. When the Goat MMO Simulator DLC was released, he was not yet deceased. He died from respiratory problems and heart failure.
Old Goat may have difficulties getting out of small spaces (such as Crowdkicker HQ)