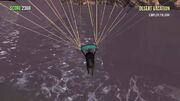 "Likes hanging out, in the sky, with diamonds. Press special to paraglide."
The Paraglider is a mutator that allows the goat to summon parachutes.
Unlock Requirement
[
]
The Paraglider can be unlocked by picking up the glider on top of the large whiplash waterslide.
Abilities
[
]
The Paraglider goat can summon a parachute by pressing Special. The parachutes can be detached by pressing Special again or ragdolling
If combined with the angel goat mutator it allows the player to fly!
[

]