This article is about the
Mutator
, for the NPC, see
Robot (Waste of Space)
.
---
"Beep Boop"
The Robot Goat is a mutator that turns the goat into the robot Goat-2 (or G-2).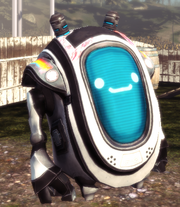 Unlock Requirement
The Robot Goat unlocked by completing the Trying to bring forth Sanctum 3? achievement.
Abilities
Instead of licking objects with a tongue, Robot Goat uses a black strap attached to its right hand.
When Robot Goat ragdolls, you can roll it around in a ball-like fashion.
When Robot Goat headbutts, he punches instead.
Robot goat can throw items by headbutting.
Explosions don't launch Robot Goat as far as other goats.
Trivia
This is a reference to Coffee Stain's popular game Sanctum.
G-2 can be found in the shipping container held by the crane in GoatVille, and is one of the items sacrificed at the Pentagram to unlock Robot Goat.
In the mobile version, G-2 makes robot sounding noises.