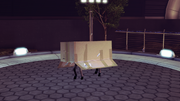 "Clip clop clip clop"
The Sneaky Goat' is a Waste of Space Mutator which puts a box on the goat's back.
Unlock Requirement
[
]
The Sneaky Goat can be unlocked by walking through the air duct in the Private Quarters. Go to the female showers on the end of a row of the Spaceship Carrier.
Abilities
[
]
The Sneaky Goat possesses no special abilities.
Trivia
[
]
The box that the player goat wears is a reference to Metal Gear Solid's Cardboard Box.
[

]