This content is exclusive to the Mobile Version

---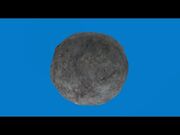 "Just like experiencing the stone age first hand. It's almost too real!"
Stoned Goat is a mutator added in the Goat Simulator Mobile Update 1.4.12. See that page for more information.
Requirement
[
]
Go to the roof of the school. Headbutt the bell to ring it. Then a flying RV should come to the parking lot. Run to it and go through the door. Then you should come out as Stoned Goat.
Appearance and Abilities
[
]
Stoned Goat is just what it sounds like: a giant rock. All you can do is roll around. You can jump, but not that high. You can't headbutt, lick, or ragdoll. You can destroy things, by rolling fast and jumping; and the same for exploding things. You cannot even get in buildings because you are so big.
Trivia
[
]
Abilities
[
]
Stoned Goat has no abilities except crushing things easily and having fairly easy control.
[

]