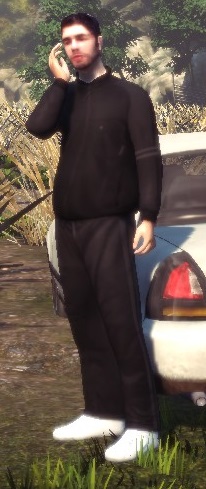 Styvman is a character in the video game Goat Simulator. He can be found in several areas of the town, sporting a black outfit.
Enemies: Pilgor , Geten
Status: Alive
Locations
Edit
The following is a list of locations where Styvman can be found in the Classic Map.
Driving a blue car through Goat Ville.
Near the crowd watching a car drift around the tall grass, speaking on his [invisible] cellphone.
Jogs from the outhouse area down a dirt path between the tall grass. He then crosses the street, running around the red house and the barbecue party behind it, before climbing up the hill passed Coffee Stain Studios and into the Helvete tunnel. Styvman then exits the Helvete tunnel and collides with a stop sign. Depending on how he lands, he can sometimes cause Bigge to trip on his path in and out of the Him Len and Helvete tunnels as well.
Joining protestors at a rally near the Helvete tunnel.
Sitting on the edge of the unfinished building's third floor.
Working on Goat Simulator on the first floor of Coffee Stain Studios.
Walking out of the Helvete Tunnel and passing the GoatVille spawn location and sometimes tripping Bigge when you're not looking, if you stay at the "car drifting of the tall grass" location long enough, Styvman runs across the path and gets hit by the car drifting of the tall grass, and if you can follow him further enough, he will approach the goat henge, and collide with one of the henges and surprisingly roll of an uncharted cliff.
Community content is available under
CC-BY-SA
unless otherwise noted.