"The common Tall Goat can be found on the plains of Africa."
The Tall Goat is a mutator that turns the goat into a giraffe.
Unlock Requirement
Abilities
The Tall Goat differs from the standard goat in a few ways.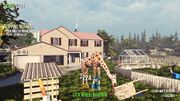 Tall Goat is quite clumsy.
When the Tall Goat licks, it first lowers its head. This means there is a slight delay.
Headbutting. The Tall Goat kicks using its left front leg. Even though this is a kick, it is shown as a headbutt in the score.
Trivia
Tall Goats can be found in the Waste of Space DLC as a NPC in the map, they are hunted so you can stop the hunters... or hunted them yourself!
Bugs
As with many mutators that change the player model, Tall Goat may become deformed if combined with other model-changing mutators (might not work on Xbox 360.)
Example Video (Tall Goat + Ripped Goat)