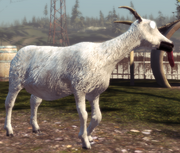 "Thunder of the gods."
Zeus is a mutator that gives the goat white fur and glowing white eyes. In the mobile version, it is black
Unlock Requirement
Available at start on PC.
Available with MMO on console, this does not include the XBOX 360 where it cannot be unlocked.
Find 5 trophies in MMO on mobile.
Abilities
Pressing Special shoots out a blue spark that explodes into a blue light when it hits the ground. Any NPCs hit become temporarily surrounded by blue and purple sparks and begin flailing uncontrollably. Sparks spread to other NPCs on contact, including to the player goat. However, sparks do not cause the player to spasm.
Bugs
Kicking will cause the player to become unable to walk and be reduced to jumping to move, this is extremely frustrating and as no reason to exist but whatever.
Trivia
The Zeus mutator shares the same appearance as the Angel Goat mutator, but without the halo.
In Goatz the sparks have the same properties as fire, including the fact that they hurt you over time and can be removed by entering water, despite the fact this is not how electricity works but thats just a oversight since theres no source of electricity in the map normally.
In the mobile version the Zeus mutator has the same texture as the normal goat but darkened